Structuring of Design department
Organizational
Management 3.0, Notion
2023
The case below brings a report on structuring a new Design area.
This structuring was done with my friend Renan Bonin, in a co-creative way. The results obtained here were not achieved alone.
In fact, this text was created with four hands, with reservations for the parts where a personal view appears or there is the "I" in the text. Overall, it was a job done by us.
The Fitcard was a company with many developers, but no design professionals in its Technology sector. Its products began to evolve quickly, and the lack of a user-centered design professional resulted in products with some usability deficiencies, along with the lack of metrics to analyze the impact of new features or fixes.
This began to change with the entry of my friend Renan into the team responsible for the company's new products, who brought with him a lot of experience with end-to-end User Experience methodologies and processes.
In just over a year, Renan was highly successful in understanding the business rules of the company's products, as well as getting closer to the people on the team (especially the developers). During this time, new design processes were introduced into the team's daily routine, and soon the value of these processes was reflected and recognized throughout the sector.
Over time, the results obtained in the team responsible for new products began to emerge, even being reverberated in other teams. Increasingly, the demand for tasks such as research, usability, and impact on functionality was seen as essential for quality delivery and product evolution, and thus a demand for a team that provided support in these decisions happened naturally.
With the help of our squad leader Felipe Alecrim, we began to take the first steps in establishing this new Design area within the company.
The first step was to centralize the Design demands within the sector on a team board, in order to have an understanding of the necessary scope of action for the team.
Along with that, it was necessary to define the goals of the new area, thinking about a sustainable structure that was ready to receive new members, as well as providing inputs to think about the best way to organize the team within the existing squads in the sector.
Team objectives (OKR's)

When we started mapping out the points that needed to be worked on for building the area, we realized it would be a long-term effort. Our main goal was to create a place where new designers could join and already have the "foundation" work in place.
Therefore, to have a clear understanding of which metrics to use and how to manage the stages, we used OKRs (Objectives and Key Results). We separated them into different secondary objectives and for each of them, we added several tasks.
This step was essential for us to organize and prioritize our focus.
Organizational design
UX/UI in Agile environment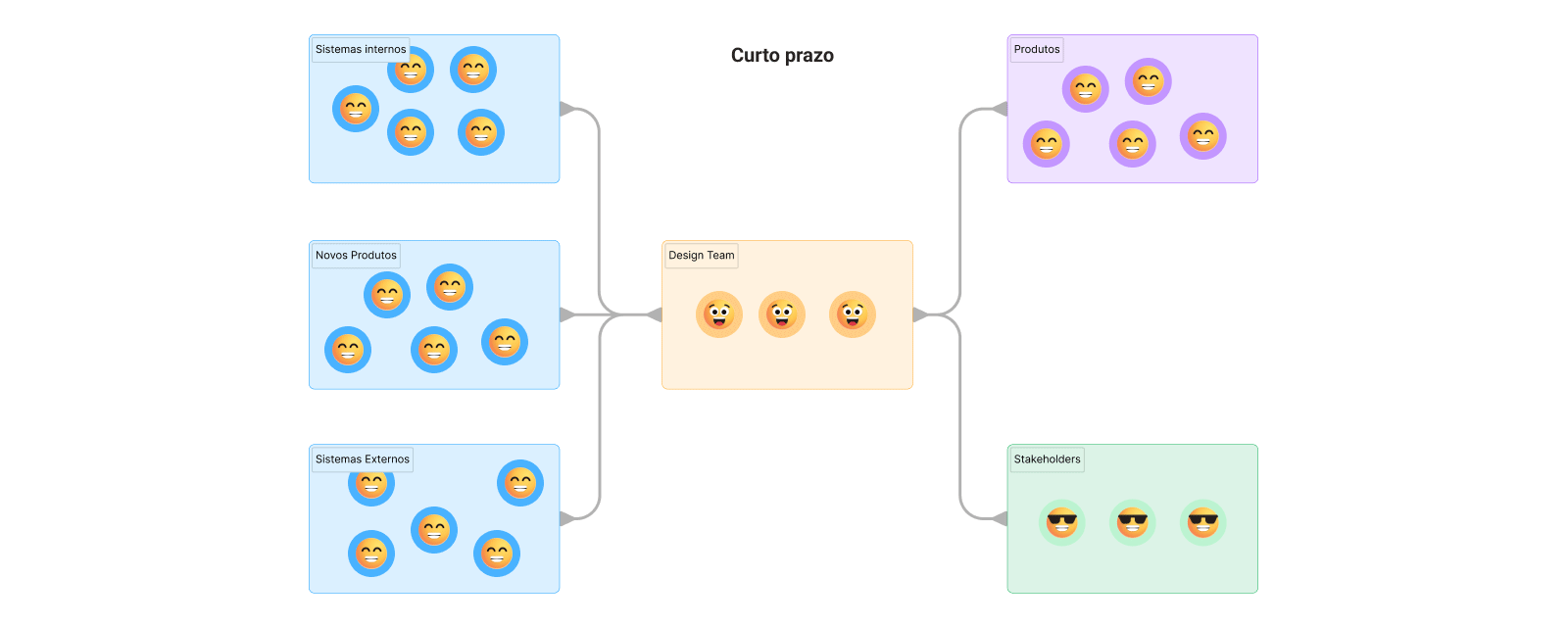 Each organization is different, and integrating a new experience team into a pre-existing model requires something that is present in several agile pillars: iteration.
Design is something new for the company, but at the same time, it was not new for the team creating new products. The question at stake here would be scalability. For this, some pillars and foundations would be necessary for the team to grow organically.
One of the first steps to organize the new team within the company's agile process was Desk Research. We reviewed the available literature on the subject and organized the point we wanted to reach in order to plan the steps to get there (even though we knew we could change it in the future). The ultimate goal would be a mix of design professionals within cross-functional teams and teams separated into silos, so they could work on long-term projects and structures.
In this context, we would use Dual-Track Agile so that, especially in the discovery stages, the design team could work simultaneously with the development team.
We arrived at the following 3 steps:
1st step: Short-term - The structure that will serve as a foundation for the future
In the short term, the team would be structured in a "silo" form, for the following reasons:
To organize design processes;
To be able to interact more fluidly with stakeholders;
To serve as "consultants" for squads, in order to evangelize without the need to exclusively work on a single project. The objective here would be to solve several "small problems" so that the value is perceived without the need to "speak." Show, don't tell.
2nd step: Medium-term - Merging cross-functional teams and building culture
In the medium term, the "silo" team would continue to be active and, at the same time, we would have professionals in each squad. The reasons would be:
Design professionals in each squad would become experts in the products they were responsible for, ensuring agility and quality of delivery.
The Silo team would continue to work on structuring, focusing on processes and projects that could involve the entire organization.
At this point, there would be a need for design leaders focused on PDI.
3rd Step: Long Term - Specialties and Agility
In the long term, the "silo" team would be dissolved into "Research," "Design Ops," and "Strategy." At the same time, the number of professionals in the squads could increase. This could indicate the need for a UX Manager to organize the entire structure.
Here are the reasons for each area:
Research
We believe that every UX professional should be able to conduct research, but, considering the reality of the company, we observed that some methodologies require a longer time frame, which could make it unfeasible for a professional within a squad.
Some research, due to the company's needs, would be done holistically, integrating all teams.
Specialized professionals in research would provide support on a daily basis for professionals within the squad.
Design Ops:
With the scalability of the experience team, we would need professionals focused on organizing the team's processes.
Estratégia:
The creation of products is a constant activity in the company, and in order to give "flow" to the professionals in the squads, the strategy team would enter the process at the beginning.
It is important to emphasize that many things could change over time, however, we used this plan as a way to illustrate to our stakeholders what are some possible future scenarios.
A fundamental measure to achieve this goal was to investigate the organizational structures of teams that have already achieved some level of Design maturity, as well as the challenges faced by these companies in an agile environment.
unFIX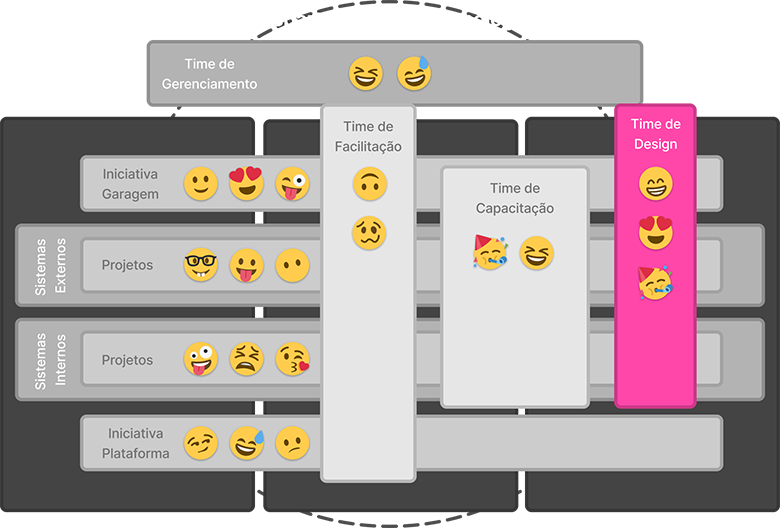 Regarding Design teams in an agile context, it is also worth highlighting how this organizational model was designed to be scaled in an organization that in the future would have squads in the unFIX model: a model created by agility expert Jurgen Appelo, which seeks to create flexible and adaptable organizational and structural standards in companies.
Considering that unlike other models, unFIX does not bring processes or frameworks, we were able to map its application in the Technology sector of the company, envisioning a future where we would have facilitation and training squads, in addition to the Design squad.
Knowledge of unFIX was acquired through a squad created by Eduardo Junque to solve a specific organizational model problem. After completing this task, we realized that this same approach could be applied to the Design team in the future, and quickly began to look for ways to implement it.
Team Ceremonies
Weekly forums
Weekly we had conversations to align ongoing projects, resolve possible impediments, share information about personal studies, always in a light and relaxed tone.
Retrospective
At the end of 2022, we conducted a retrospective to discuss whether we were on the right track towards the previously defined goals for the Design team.
Using the principles of Management 3.0 as a guide, we abstracted some tools seeking to energize people, provide a path to develop competencies, grow the team structure in a healthy way, and improve everything (processes, methodologies, people, organizational model, etc.).
In addition, we integrated Design Thinking and Design Sprint processes into the methodology. We started with a "silent vote" so that we could find the main points from everything that was said. In summary: what we would not give up for anything.
We gathered for two days to discuss the points that needed to be rethought and celebrated, as well as writing thank-you cards. Afterwards, we wrote post-it notes about the profile characteristics of professionals we would like to work with on the Design team.
Demand organization
The team's tasks were organized in a kanban format using Asana. Our board had common Scrum stages (such as Sprint Backlog, To-do, Doing, Done), as well as specific columns for internal task validation, and a delivery monitoring column used to evaluate whether our deliveries were solving the pain points of our users and/or stakeholders through metrics.
Knowledge base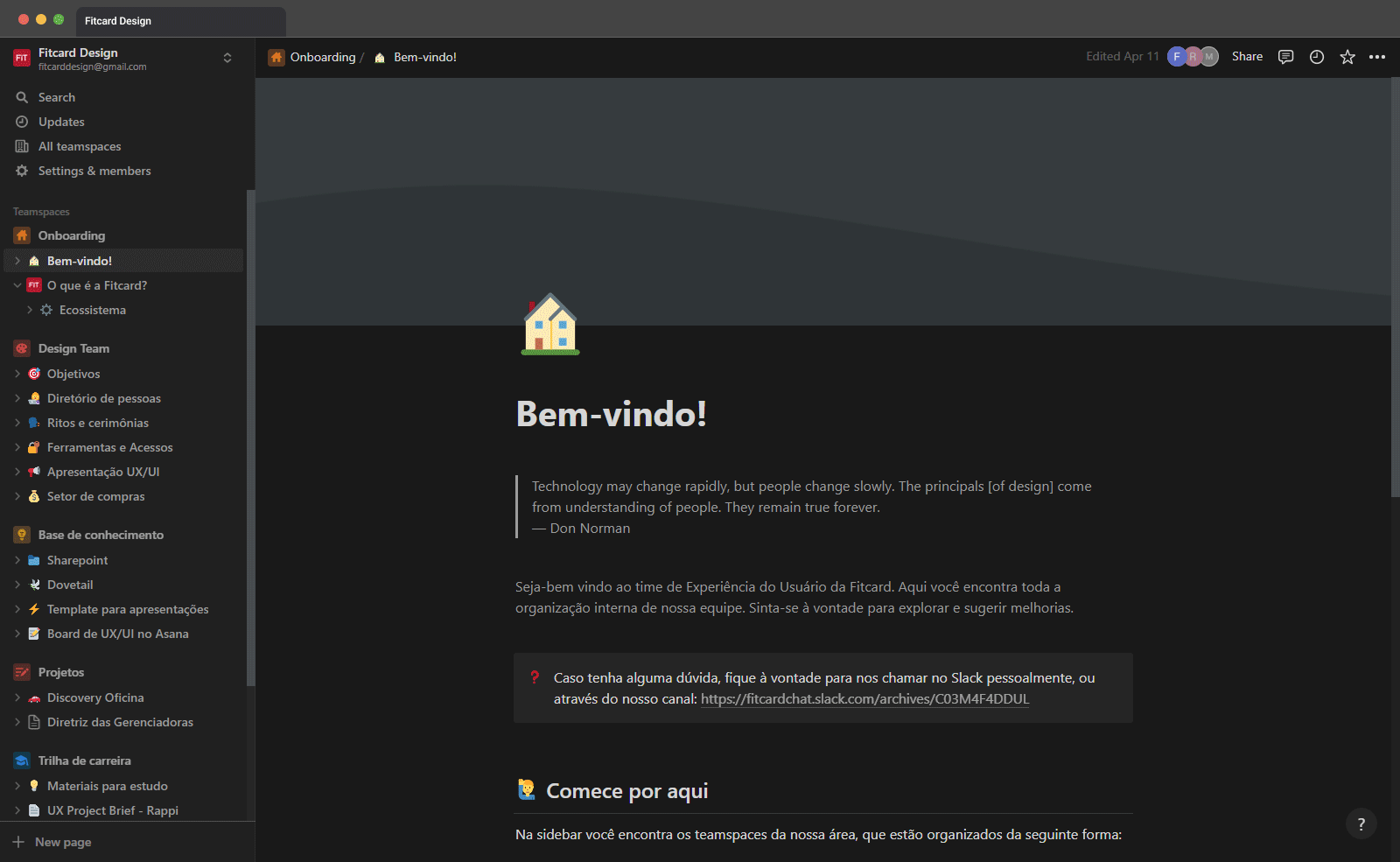 We used Notion to create a specific knowledge base about the Fitcard Design team. This base is used to assist in the onboarding process, understanding the company's products and business rules, and other common daily tasks, such as project logs and notes.
The structure consists of:
Onboarding: Necessary introduction for getting accustomed as a Design professional at Fitcard.
Design Team: Specific information about the Design team, such as goals, structure, people directory (where we use the "Personal Collab Card" from Management 3.0), rituals and ceremonies, and access data.
Base de conhecimento (Knowledge base): Information about specific documentation of the Design team.
Projetos (Projects): Project logs of ongoing or completed projects.
Trilha de carreira (Career path): Indication of materials on the field, as well as specific projects for new professionals.
Next steps
This is an ongoing work that will always continue, as this construction is not something that has an "end point," especially since we adopt agile principles and implement an iterative process.
Usually, in a "conclusion," we can show what the main result was. Thinking about something like this for this particular case was not an easy task. But we arrived at two points:
The experience of building an area from scratch. This is multidisciplinary knowledge that we acquired and will be able to use in various projects in the future.
The second, which we can even consider the most important: this structuring made us closer to the development team, bringing Design content to all company positions. As a result, a developer was interested in migrating to our team.
One of the points we did not mention above is that we are also building and, at the same time, discovering the PDI (Individual Development Plan) structure of the area.
We can consider this stage as the "most important" since we can see the evolution of an excellent professional in our daily work, and we know that we have a small part in it ❤
Below are testimonials (translated from Portuguese) from people who had a significant impact and participation in this whole process:
Felipe Alecrim - Squad Leader - He helped us make the most of the journey, teaching us how to lead people, how to communicate effectively, and what album to listen to during the week 🤘🏼
The biggest challenge of structuring a new area in any company is to find a balance between theory and practice. Bringing ideas to life is a very complex task, especially because it involves numerous types of expectations. And being able to balance all of them, linking the institution's interests with each team member's values, is undoubtedly a task for few. A determining factor for the success of a project like this is being able to gather people who care about the collective, after all, we are talking about a new area and not just a position. And it was from this that the strategy naturally linked with Bonin and Jonathan's skills. You know that type of professional that every company dreams of having? Well, they are both like that. Focused, determined, studious, concerned with the sense of collectivity, and especially extremely skilled to make the project happen. Since its conception, going through the initial steps, and very naturally reaping the fruits of the very well-executed planning. Even in moments of adversity where the results are put to the test. Seeing this up close made me a better human being. Realizing the high theoretical level of both, combining the dynamics of everyday life, was very enjoyable for an area that was little known to me until then. Supporting us, helping us, growing and developing together through attempts, methodologies, rites, events, and results. All of this reinforced for me and everyone involved the importance of planning and applying concepts in relation to user experience and how all of this enriches and values processes, products, and people. Bonin and Jonathan, I just have to say: Thank you!
Mariana Bassani - UX Designer - Who trusted this new Design initiative to switch areas, even though we were first-time sailors 🧝
I just have to thank you for all the knowledge passed on, the patience, the companionship, and the laughs. Changing fields twice in a year and finally finding myself was a professional achievement of "finally, I will work with something that I identify with," something I didn't imagine achieving so soon. But thanks to you and your efforts to structure the area, the dream of working with UX, something that was once so distant for me, became a reality. And not only did it become a reality, but it proved to be a complex profession in day-to-day work, with many paths to follow, readings to do, knowledge to master, and yet, whenever I needed it, you were there to help me not "let the ball drop," always recognizing my efforts, valuing them, and helping me to see them as well. I hope in the future to be able to carry you with me, bringing UX and also UI wherever I go, passing on all the knowledge and providing support for those who need it, just as I have needed it at the beginning of this Pokémon journey :)
‎